About ForeverSafe™
ForeverSafe™ Burial Urns are ForeverSafe. Why should thieves be rewarded for desecrating a loved ones memorial. ForeverSafe™ burial urns are as beautiful as bronze or marble, but hold no interest for thieves, due to their tough, watertight polyethylene contstruction. ForeverSafe™ products are Rotationally Molded by Granger Plastics, an internationally recognzied leading plastics company.
Granger Plastics is a proud and distinguished memeber of the ICCFA (International Cemetery, Cremation and Funeral Association). Since 1887, The ICCFA has grown to more than 7,500 members in the fastest growing assocation in the industry. Membership in the ICCFA includes numerous leading cemeteries, crematories, service organizations and students.

Granger Plastics is also a proud member of The Catholic Cemetery Conference. The Catholic Cemetery Conference was founded in 1949 and is the oldest and largest Catholic cemetery association servicing Catholic cemeterians nationally and internationally.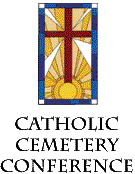 Why ForeverSafe™ Burial Urns

Sadly, burial urns made of popular materials are being stolen from cemeteries by the thousands- simply for the value of the burial container. Metals like bronze, brass or copper, are sold for scrap. Expensive marble urns are resold intact to unscrupulous dealers.

Conventional urn materials suffer from normal exposure to the elements. ForeverSafe™ urns are impervious to surrounding conditions. They're as tough as steel, as beautiful as stone but with an watertight seal that protects against flooding and other problems, indoors or out.

Families understandably assocatin an act of eternal love and commermoration with more expensive materials. But why pay extra for protection you don't get? After all, the true value of a container lies in protecting what's inside. Keep it ForeverSafe!